Home > Dance Events Review


Invertigo Dance Theatre Presents "Reeling"
Invertigo Dance Theatre

"Reeling"
Odyssey Theatre, November 13th - November 22nd, 2009 Invertigo Dance Theatre

Los Angeles is home to the most interesting array of artists. It is chock full of exciting and innovative dance companies just waiting to unravel every perception and build any idea. Dance artists continue to fill our imaginations with possibilities. Each dance presentation has the ability to stir our soul with inspiration during the journey of interpretation.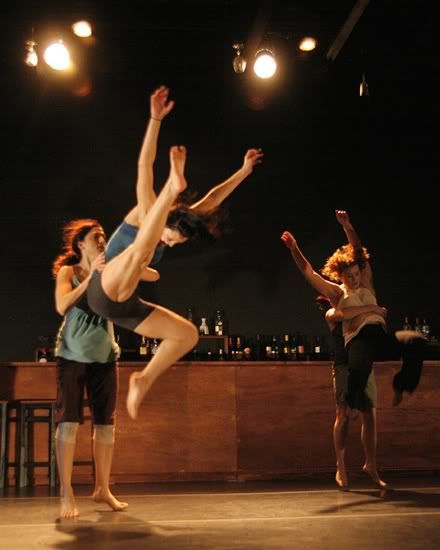 Flip Out - Bahareh Ebrahimzadeh, SaraAnne Fahey, Courtney Ozovek, Chelsea Asman

A great new dance company by the name of Invertigo Dance Theatre performed their new work "Reeling", at the Odyssey Theatre in Los Angeles late November. The Odyssey Theatre is a class-act performing arts facility with refreshments and a welcoming lobby. Seating was swift as Artistic Director Laura Karlin walked onto the intimate stage and made a few announcements before welcoming cellist, singer and songwriter Najeeb Sabour to play some wonderful pre-show music. The music continued development as dancers casually made comfortable on the dive-bar set. One sat fishing from a live goldfish bowl as the music and dancers subtly multiply.



Fly - (top) Chelsea Asman (bottom) Courtney Ozovek, F. Nicholas Factoran, Jermaine F. Johnson, Bahareh Ebrahimzadeh, SaraAnne Fahey, Jessica LeCheminant

"Reeling" is a cohesive and comprehensive dance piece about the art of effect in a co-existent consciousness. It shows human connections and diversions swell into revolving concept. "Reeling" is a series of progressive puzzle pieces, revealing an emotional landscape of reaction. This "dive-bar" fishbowl portrays reaction, interconnection and outcome in the throws of cause and effect.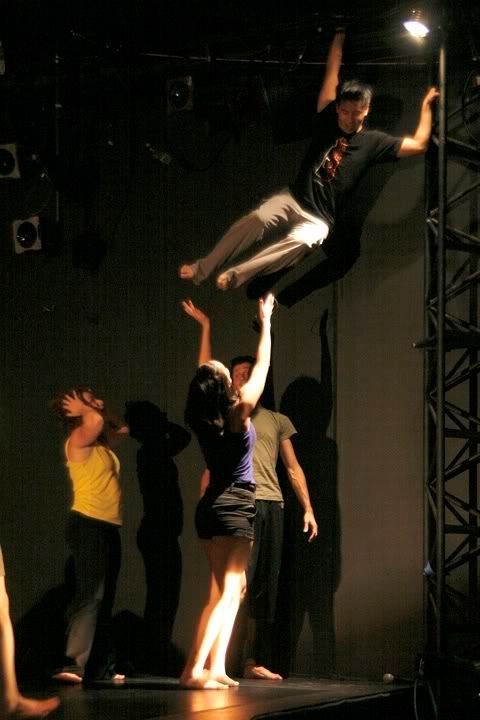 Get Down - (top) F. Nicholas Factoran (bottom) Chelsea Asman, SaraAnne Fahey, Jeremy Hahn

"Reeling" proved poignant and pertinent. Each witty entrance and exit rippled into another series of diversions. One entrance of which dancer SaraAnne Fahey was introduced, included a bogus audience member "interrupting" the performance with a cell phone conversation. Enter digital mayhem: society today is inundated with people who are chained to their cell phones. This comical piece provided clever and utterly relevant. Newcomer Fahey has an undeniable presence; her dancing carved intrepid shapes and unapologetic motion; she's definitely one to watch.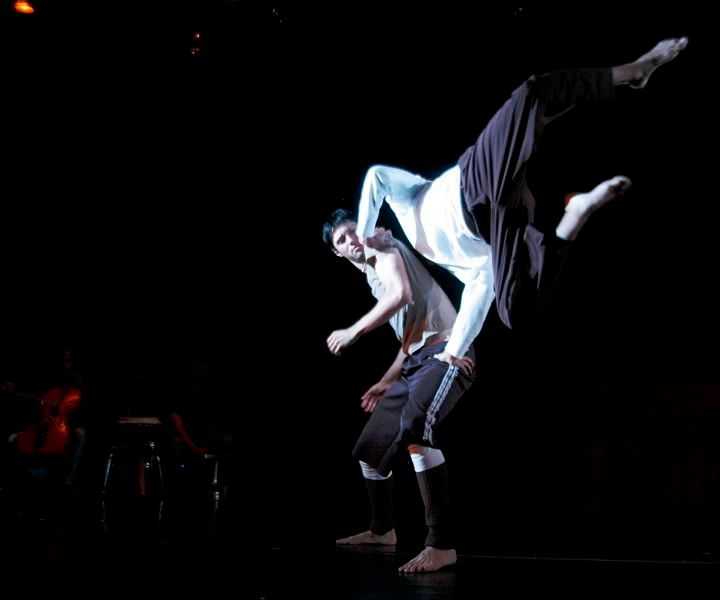 Launch - Jeremy Hahn, Jermaine Johnson

The dancers continue to turn and twist in the musical current under the deep blue sea, well into the after hours, where judgment calls, inhibition and drunken decisions create a synergy of murky waters. A lively karaoke scene gets eclipsed by a wounded heart (so wonderfully danced by Jessica LeCheminant) in a mesmeric exposé of sex and violence. Handsome other (Jeremy Hahn) dribbles her across the floor as they build a web of cruel embrace. Jessica's emotional presentation develops the dynamic of "Reeling" leaving it watertight. The performance ends with a quiet, balanced wine goblet (a la fish)…the perfect epiphany.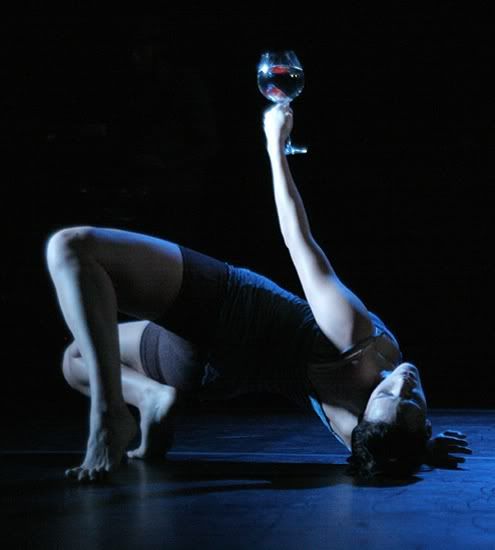 Divas - SaraAnne Fahey, Diva the Fish

Make sure you check out Invertigo Dance Theatre; choose a dance performance instead of a movie one night! This company provides a memorable, cultural and original event that is not only highly entertaining but inspiring and thought provoking. Go to invertigodance.org to check out their performance schedule.
Subscribe in a reader

Do you have the guts for VEGAS??



Hats off to the masters of choreography!



"Dance is the hidden language of the soul." More Dance Quotes



See our tap dance video gallery.



See our modern dance photo gallery.



See our ballet photo gallery.



Ward off tendonitis.